Inspired by a perfect summer day
Wow...woke up this morning to a gem of a forecast...Blue skies, light breeze, 75 degrees all day. It doesn't get better than this:) After I get done messing with this blog I'll mess around with the plants, kick around the idea of going to the sale at the nursery for more perennials cheap, vacuum and do laundry and clean the toilet (awwwwwwwww man!) but mostly, DYE! And when I was outside photographing some stuff for the blog, I took some pics of a couple of plants on the deck for inspiration...I get so stuck in color ruts sometimes and I'm in a green phase right now. Ha...and maybe will be still looking at these...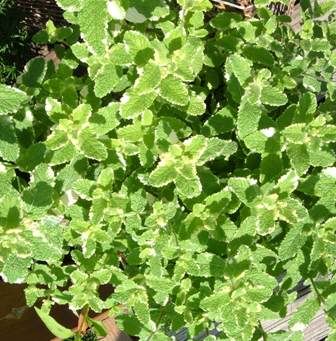 ...but it's summer...things are green and gorgeous! And my green stuff always sells. That's a pot of coleus on the top and a pineapple mint on the bottomt. The pineapple mint is absolutely delicious in iced tea...just drop in a few branches and let it steep in the sun.
I guess I won't be working on the Tour de Fleece challenge today...too much to do and I'm feeling dangerously cocky about it since I spun up 4 oz of the pound yesterday morning.
I participated in a Spindlers list Dyeing4Spring exchange, and received this lovely yellow/green roving from Norma on the list, along with the spalted maple spindle. This fiber actually helped me figure out the long draw on a spindle...it's a dream to spin! I'm trying to find out what it is. The cool new spindle fits in quite well with my small spindle collection, which currently consists of the spalted maple, a zebrawood top whorl, a tahkli (that I'm afraid of!), an Ashford Turkish (my first!) and a Valkyrie Turkish, which I adore. Not pictured is a Very Cool Alden Amos stone whorl spindle that lives at the shop with fiber for sock yarn on it.
Spindling was my first love and I still do it regularly, much to the dismay of my Mom and assorted spinning buddies. To me, it's great fun, and very calming. It's not always about the finish line for me, I really do enjoy the whole process and spindling slows that down. And the portability can't be beat! If I only have a few minutes to spin, I love how easy it is to grab a spindle and just DO IT rather than committing to sitting down at the wheel. So much easier to collect than wheels :) I'm currently lusting after a Greensleeves McKenna and something-anything-from Bill at Copper Moose. I want a Hatchtown too, and a fancy fancy Bosworth...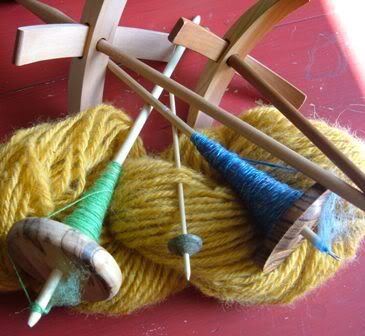 So, I'm off to accomplish some of the dreaded housework, maybe hit the nursery and DEFINITELY get some dyeing done :)