Results of Dyeing in a New Way
I finally took some photos of the low water immersion dyeing on cotton yarn in my last post. However, one of the results was in my shop on the counter, waiting to be balled up and knit into a sweet little store sample summery baby top. It was cotton chenille and it was REALLY lovely! Someone bought it before I could even ball it up so I'm going to have to skein up more cotton chenille and do it all over again. This time, I'll do a production line and dye up more colors:) But, I do have 3 skeins of nubby cotton that came out terrific, and one is just like the chenille, only......uh........nubby!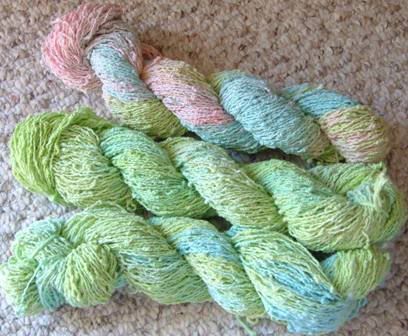 The top skein was the three-color jar, and the other 2 were the blue/green jars.
The colors blended just a bit, but not as much as I expected. In my experience, this method, though more unpredictable than hand-painting, is much "cleaner" when it comes to color separation on cotton. You could get more blending by leaving the dye to move longer before fixing or adding more dye for a wetter pre-fixing solution. For some reason, even when using a light touch with dyes, I get more color fusing in hand-painting cotton. I don't use a thickener, which may be part of the problem, and perhaps the way I roll up the skeins they smoosh into one another more. And I don't use heat with these dyes...I leave them for 24 hours. It also takes MUCH longer to rinse out excess dye when I hand-paint and with this method, there was almost no bleeding in the rinsing process.
If it weren't for my continuing battle with the dreaded housework, I'd be doing this again all day. But, I really need to get a handle on my housework. Not having the house organized makes me crazy and I just can't seem to focus on the "fun" work when I'm like that. My to-do list between the house, my personal life, and my shop is pretty overwhelming these days and I'm trying really hard to figure out a way to get a handle on all of it without working myself to death. If anyone has any helpful suggestions for this, I would be really happy to hear them!
It was really fun to hear all the comments on the Spindlers list about the dyeing:) I truly love that list and all the wonderful people and experience that "live" there so it feels good to give something back. I was awake a good part of the night thinking about dyeing wool this way. I have a couple of ideas, but I'm mostly concerned about the dye striking enough before you add the fixative (which, with wool, would be acid/water). I wonder if the colors will all blend together at that point, especially since heat is going to be applied afterward. I have a couple ideas in mind:
1. Try a jar with vinegar in the dye solution and one without.
2. Use HOT dye/vinegar when applying dye
3. Uh...I thought I had more ideas but I'm suddenly fresh out ;>
Anyway, I hope to be able to play around with this in the next day or two. I'm going to try roving first, I think. But everything I've learned about dyeing wool tells me it's going to be a whole 'nother animal! Stay tuned...