Don't Worry...I've been dyeing lately....
Crazy. That's my life. I work four days a week at a job, and I try to keep up with my
online fiber business
, my booth in town, my
Avon sales
(don't ask!) and my REAL life with husband, home, hearth... I. AM. BUSY. Therefore, my blog suffers horribly. My husband suffers somewhat but he's as busy as I am. My Hearth wails in dispair 75% of the time. I'm quite certain that when I settle in to knit or spin, I can hear it tearing its hair. My UFO's suffer the most these days and they are LEGION folks. Anyway...enough boring whining...photos would be good, eh?
LOVE THIS! Cotswold Curls in my new Jester colorway and you can buy some HERE along with other colorways ~ I really love working with cotswold fleeces.
Above is Montana - grown rambouillet roving. I bought this stuff and it had some VM in it, which bugged me but it was the right price that I could resell it and experiment with colorways and I do blab on and on about it on the site so no one is disappointed when they get it. I dislike dyeing fine wool like this (and merino) because it compresses in the dye bath and there's not really a damned thing you can do about it. But this stuff is SO BRIGHT white that I couldn't stop myself. Mine isn't felted, mind you, but it did change somewhat from its natural state of open-ness. I'm just super careful about handling it and pre-draft while it's damp so it's absolutely spinnable. I spun some up before I listed it for sale and it was great ~ easy enough to draft and the remaining VM that wasn't dealt with in the dyebath and the pre-drafting popped out readily enough during spinning on the wheel and plying. See?
I dig this colorway too ~ it was an experiment that I'm going to add to my colorway portfolio. The yarn is soft and lofty and bouncy and light. It differs from Merino (to me) in that it seems a bit "firmer" and not quite as buttery or squishy. Which is probably a good thing for certain types of projects.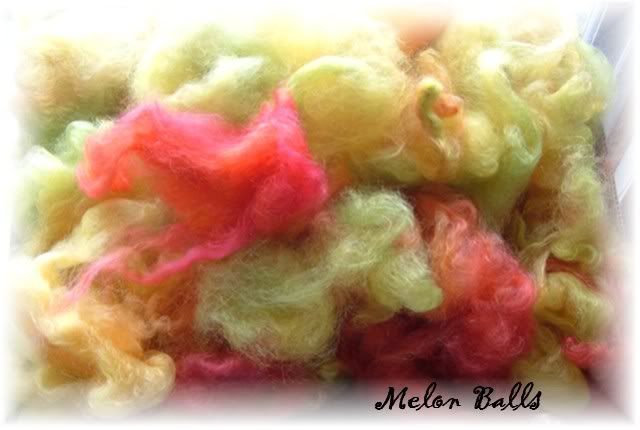 These are, sadly enough, some of the last of my 100% Kid Klouds. Very very very very sad! I do have about 8 oz left to dye up and will probably keep them for myself. This colorway sold right away ~ it's delicious and fun and bright. I did this whole layering thing in the dyepot, which is different than I usually go about it. Worked out well and I'll do it again. The colorway is so fun that I made it into sock yarn too:
You can buy this killer little skein, which is about 300 yards of a sport weight, 70% wool, 30% nylon, by going HERE :) If you must have more, that's a distinct possibility ~ JUST ASK!
Let's see ~ I have adopted a pug since we last spoke. She's a freaking RIOT of a dog packed into a 15# bundle of doglet and we named her Lily. Good thing, cuz she sheds like a fiend so pugs must be cute and funny and entertaining or no one would keep them. I have photos of her on my home 'puter so will add one in here soon. I adore her. Truly truly love the heck out of her. And Tasha, our doberman, is crazy about her too. And so is the DH. The Original Nay-Sayer of New Dog Acquisition. HA. He's terribly squishy on the inside :)
I've been spinning. Mostly for other people, or samples, or handspun-for-sale type spinning but spinning nonetheless. I have been spindling and I have a new spindle too but, like most of my new handspun photos and my new spindle photo ~ on the home computer and not uploaded to Photobucket. Sigh. But here are some handspun photos to check out: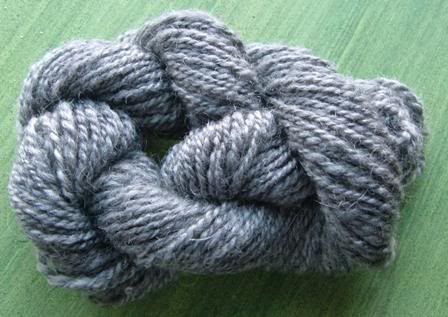 OH YUM! This is an awesome heathered grey roving I had made up ~ Kid Mohair, Merino Wool & Tussah Silk. Way wonderful ~ it's hard to sell it on my site but I've come to the realization that A: I'm in BIZNESS and B: I can't keep all the good shit for myself. Believe me ~ this whole Keeping The Good Shit syndrome is difficult to overcome. I'm greedy. But I do share and I do sell Good Shit on my website. Really. But sometimes a fiber comes along and it wrenches you to part with it ~ any of it! But I'm a giver, deep down. I do share.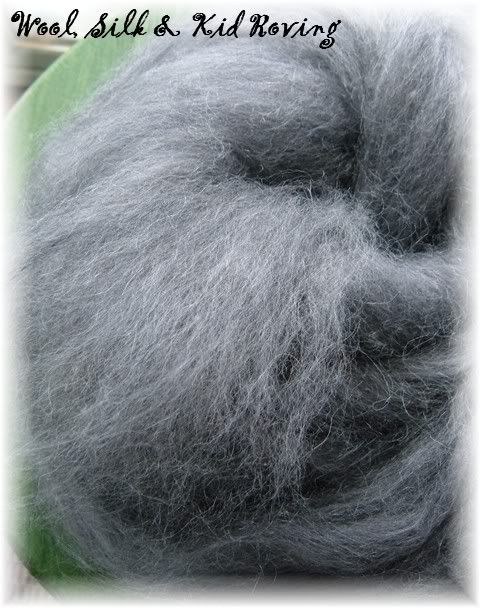 So, I consoled myself with 12 oz and listed 4 pounds for sale on my website. It's awesome. I spun that on a spindle and it was like eating chocolate. Godiva Chocolate even. I hope there's enough to make this little shell with a detachable cowl that's in Weekend Knits by Falick. Thing is, that little number is made with Kidsilk Haze, which is 22 wpi and I don't think I can spin a two-ply that fine but I can try! Moving on...because I'm going to get really sad that I'm not home spinning something wonderful RIGHT NOW....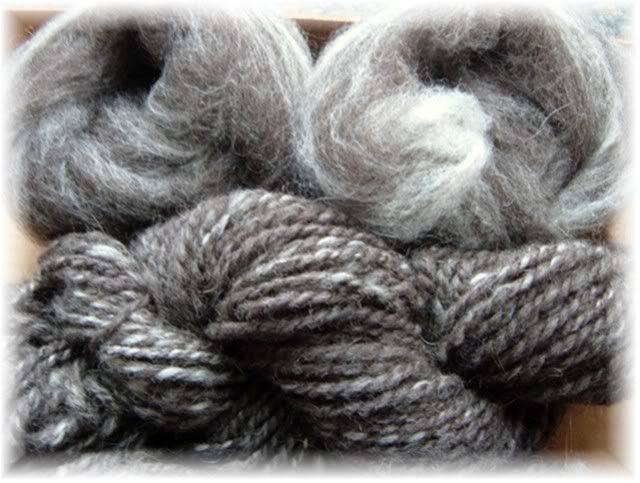 This is Bearnese Mountain Dog fur swirled with some merino that I spun for a truly cool man and his wife in New York. I spun it all fat and bulky and it was a blast and sooo hard to send away the yarn. I spun 4 pounds of it ~ thank goodness it was bulky. I love me some bulky handspun!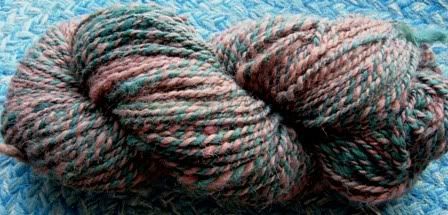 Sigh...I'm reduced to showing you Handspuns of the Past. I had overdyed some cinammon-colored alpaca and spun a natural single and an overdyed green single then plied them together. I sold it at Northern Michigan Lamb and Wool last year to Chris from Briar Rose, which was a huge compliment cuz her work rocks! I love that it's mostly dark and moody colorways. She bought this huge skein and one just like it but with blue instead of green. She's a really cool person with vast amounts of color talent.
Oh ~ wait! I've found some spinning projects buried in the bowels of photobucket :>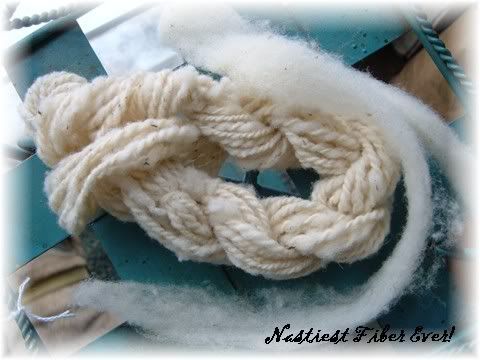 Behold! The Nastiest Fiber Evah! Really...this just about made me hate Rambouillet forever. And Ever. I got it in a swap/trade/buy thing with the nicest woman whom I will never contact about the nasty stuff because I adore her. There was this white, and some brown. I bought it cuz I'd not tried rambouillet before and wanted to (and didn't realize I had some in stash already!)
Well, I managed the brown alright. Not an impressive yarn by any means but the white? No. Way. And folks, I will spin just about anything ~ I hate like heck to throw fiber away. But this was unredeemable. Thank goodness I found more NICE rambouillet and now enjoy it very much. This was noily and nasty and noily and gross and noily.

The Brown. Plied and plied up still on my sweet little Valkyrie Turkish spindle. Kind of OK ~ it was noily too and a bitch to spin but I managed on my spindle and have combined it with some other kinda-weird-not-so-perfect yarn (a white montadale and a blue cotton/wool blend that's faded) for my first foray into Fair Isle ~ I want to make the Amber Hat on Mag Knits for my first Fair Isle project and this fiber was meant to be a chores outdoors hat anyway. I hope I can get gauge and that I have enough brown for the main color. I spun up four oz so I'm sure it'll be fine ~ gauge? We'll see! Here's the brown in Not So Fab Roving Form:



Rambouillet is cool for a hat cuz it's very lofty and light and bouncy. And using Ugly Stash Handspun for a first Fair Isle and a hat that will have angora rabbit hair stuck to it most of the time is a good idea, I think :)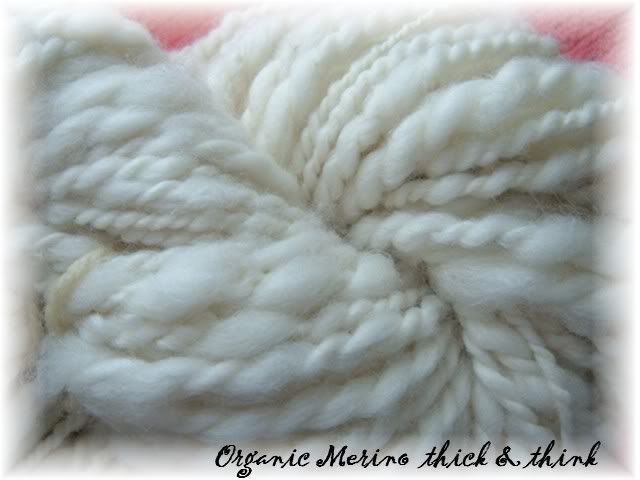 Ooooooooooohhhhhhhhhh. AAaaaaaaaaaaaahhhhhhhhhhhhhh.
Remember how I love me some bulky handspun? This is an experiment with the waste I pull out of the laps I sell on my site. I sort them out and pull out tangled nasty parts so that my customers only get the really nice parts of the laps. I have this for sale on the site right now but am seriously considering pulling it down and spinning up what I have, dyeing it with food dyes, and marketing it as a baby/kid yarn. As a matter of fact, I've just now this minute reduced the amount for sale on my website to 2# and am keeping the rest :) (Hey~ in case you're fixin to accuse me of Keeping The Good Shit, well, let me tell you ~ this stuff hasn't sold. It's kinda pricey, I do admit, but I paid quite a bit for it. So. They had their chance. For at least 6 months) Anyway, I digress...this was a blast to spin. It's very thick and thin and slubby and hands-down some of the softest yarn I've ever felt in my life. It's buttery and squishy and fabulous. I've since dyed this skein an orchid color ~ it's pretty small, about 60 yards, and I'll probably make a baby hat out of it. It's some ridiculous wpi like 6 :)
I have other fab merino laps for sale on the site too ~ they're just not organic. But, they are delicious and soft and buttery and squishy. This is a skein I spun (above), just straight out of the bag like I sell them. I'm planning a tutorial on spinning laps (more of a cloud/batt than a roving) for my site and wanted to experiment some. I love that the yarn is so lofty and soft ~ there are a few slubs but that's probably because I am NOT the Best Spinner of Merino in the Universe. I kinda suck at it, actually. I think it's hard to spin.
I had dyed some and then tried to spin them and while I *could* spin them after dyeing, they just weren't so nice as the undyed to work with. The laps compress a lot more than top or roving , I think, because they aren't so perfectly organized in the first place. I really don't recommend dyeing them first unless you're going to card them afterward.
This is what they look like right out of the bag ~ you can take them and pull them into roving-like strips and spin away :)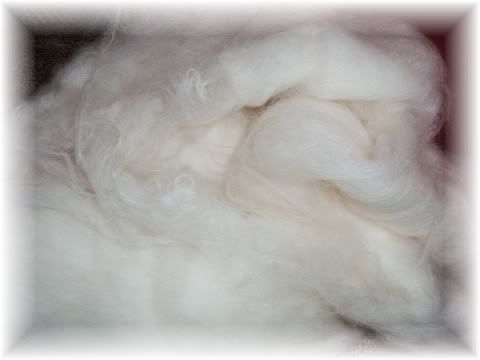 And Dyed....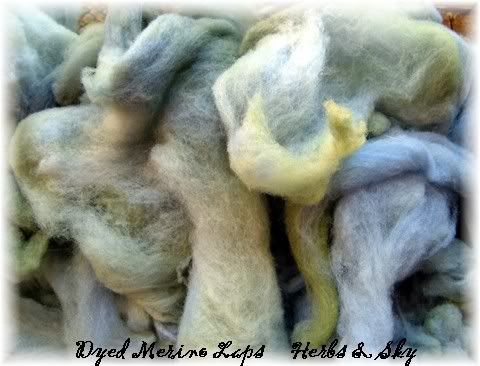 See what I mean?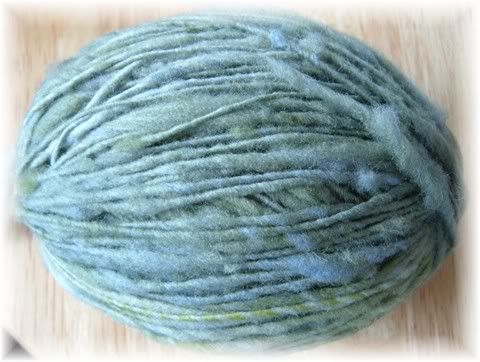 But, I forged on with them and ended up plying them with a singles of the wool/silk laps dyed in the same type of colorway but with more white because the color of the merino was so "bleh" . The wool silk certainly did perk it all up but I don't really like the whole colorway so am selling it in the booth.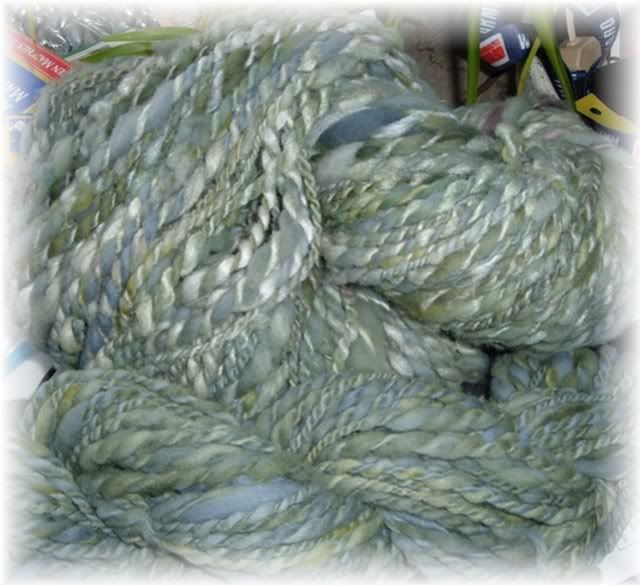 The top skein is the merino with the wool/silk and the bottom is the merino plied with itself. The top one is a bit livelier, eh? Very slubby and bumpy and cool ~ someone will love it, I'm sure. I just don't adore it. The plain merino is much more matte and the wool silk, aside from being a bit brighter in color, has that silk sheen which helps things along.
This is a sample spun from the Kid Klouds I sell on my site. Sweet stuff! 100% kid mohair and soooooo silky and very soft with awesome halo. A bit easier to spin just as they come, in cloud form, on a wheel than a spindle. You can certainly spindle them though, no prob, if you treat them like locks... (sorry for the sad crappy flash-at-night photo!)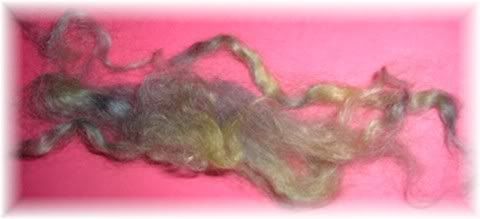 I think it's a bit easier to grab a handful and head to the wheel. I did card some up but didn't find that any easier to spin than just grabbing a handful. You can see what they look like in the Melon Balls Kid Klouds photo at the top of the post ~ the locks in this sad photo are not a good rep for the klouds at all :) The colors above in the yarn are different from the locks. I do this "sponge" thing when I'm dyeing ~ I take odd bits of fiber or yarn and use it to soak up dye that hasn't (and won't) exhaust in a dyebath so I don't have to rinse like a mad woman and hurt my fibers. I get really interesting muted colors and generally just keep them around for spinning up myself and selling or spindling for me :) I've gotten some interesting yarns that way too but generally end up selling almost all my hand-dyed yarns.
As a matter of fact, I was cataloging all my yarns (yes ~ Cataloging, like a librarian) because I have such a complete embarrassment of yarn that I need a database to handle it. Seriously. I'm working on entering it all into a database so that when I find a pattern I want to do, I can look in there and sort by wpi, fiber type, amount, etc.
Anyway, while cataloging over 250 different yarns (in various amounts ~ some small, some large and I am NOT YET FINISHED!) I discovered that I have zilch in my own hand-dyed yarn. Almost nothing at all. Pitiful. I have such a hard time keeping up with my dyework that I usually sell everything fairly quickly. I do, however, have a lovely assortment of white and light grey and/or tan goods to dye for myself for projects should the opportunity present itself.
I plan to catalog my personal spinning fibers as well right quick, and then will move onto the yarn in my biz inventory and the fibers in my biz inventory as well. That should keep me away from blogging for another month
Lastly, just in case you're all horribly jealous that I live in Michigan, get a load of our Mid February 16" snow storm. Nice, eh? yeah, yeah, yeah. It's pretty. I know that. But c'mon ~ where were you fickle snow in DECEMBER???? Today, March 14th, it's 48, sunny, and you can almost believe that Spring is coming. But, we're going back down to the 30's and *might* get a nice sunny day on Sunday. Bring on the Mud, sez I!
I'm off to screw around for hours on Ravelry (you can be my friend there ~ YarnOraTale ) Next time, I will blab on and on about the perfection of some truly fabulous Border Leicester fleeces I've recently acquired, share some KNITTING content and some mo' handspun goodness. Probably some dyework too, cuz that's what I do :) Now, be nice and go shop on my SITE! It's fun there. I promise ;> Your stash is probably really pitiful and needs some cheering up. And NO. I did NOT keep all the good shit
Labels: hand spun hand spinning dyeing hand dyed yarn kid mohair organic merino spindle