Sheep Shawl, Socks, Spinning and All That!
Once again, it's been way too long since I posted! Life is kicking my butt a little but I'm gettin through it fairly well these days :) Like everyone else, I've got a ton of Christmas knitting to do and a little spinning thrown in for good measure. BUT I FINISHED A YUKON SOCK, BY GOLLY!



This is somehow reminding me of those fake berry thingees in Captain Crunch cereal (maybe it wasn't Captain Crunch ~ but know what I mean? Fake berry bits in some cereal at some point in history?? OK...I haven't ate Captain Crunch or any kiddie cereal for like 20 years...never mind!)
There it is, on my foot even! This sock took awhile and I used the free online Yukon Socks pattern which isn't particularly hard or anything...a bit time-consuming but fun to knit! Except I was using some double-stranded alpaca/wool/nylon and size one needles and it took a loooong time to finish this one sock. And then, I wasn't sure if the yarn would bloom and be nice after washing the way I wanted it to be. Silly, I know, not to wash a swatch but my hubby had made a few pairs from this yarn on his sock machines and I kinda knew what it would do once it was washed. They DID bloom nicely and are very comfy and super pretty on my foot! I won't be casting on sock 2 till after Christmas but I'm motivated to make the other one now that I've had this beauty on my foot:) Here's a detail of the stitch pattern...
It also had a really interesting, easy "band heel" instead of the typical turned, gusset type and I really liked knitting it (seemed like it was over before you even started!) and it fits very nicely. Now...what to wear (shoes and outfit) to show off all that work! I have no idea why it sat on the needles waiting for me to kitchener the toe for a month...ha! The only reason I finished it last night was because I needed my size one needles for another pair of Christmas socks.
Speaking of sox...I've been spinning this stuff up for like a year on my Alden Amos stone whorl spindle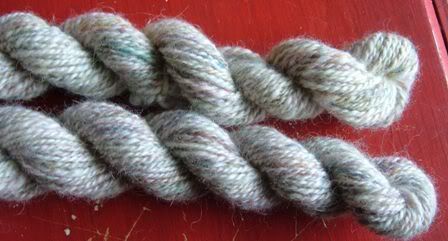 The only reason it took so long (before you die-hard-wheel-only-spinners go AH-HA! See why spindles are useless??) is because this spindle and fiber lived at the shop and I rarely had time to spin on it there. I'm plying it again because I want to make sure that this is twisted tightly enough for good wear on whatever socks I choose to make from it. It's a superwash wool that's very soft and bouncy...love it! I have a little over 4 oz spun up and it's between fingering and sport weight so I'll probably use a size 2 or 3 needle for them.
Here's my Oh-So-Cool Alden Amos stone whorl spindle. You can kind of see the not-so-perfect notching job I did on it but it really had to be done. I think he made this from a rock in his creek or something (so very Alden Amos, eh?)...I got it from a good list friend who was destashing some of her spindles and I really like it. This is what Mr. Amos says about them in his sales pitch on his website, "North Sea Drop Spindle - $35.00 This traditional tool features a stone spindle whorl, about 2-1/2" to 3" dia. 10" tapered shaft, about 5/8" dia. at whorl end. Stone whorl hand bored, rough-shaped for balance. Whorl disk not likely to be 'round', but will spin true. Carved hook & groove on top of spindle shaft. Spindle shaft is oak, ash; stone whorl is local creek bed. complete spindle weighs about 5 oz. "
Wow...I wonder if mine does weigh 5 oz? I'll have to weigh it! It does spin true, though, like he says. And the long shaft is fun!
It doesn't spin forever and has some issues before you build up a bit of a cop but it's unique and rustic and cool and I enjoy the heck out of it. This is the only yarn I've ever spun on it so now it's freed up and I'll have to see what other fiber it likes :) I've toyed around with sending it back to him and seeing if he can't fix what I screwed up maybe for a better spinning spindle but I don't really want him to see my notch job. I believe it was designed to be a bottom whorl too, soooo....I'm way scared to send it to him! He scares me a little, OK? But I get a total kick out of these pictures of them on their site. I'm sure he's a perfectly not-scary guy but....


Speaking of spinning, I'm making something for me out of my very first project-worthy handspun...I discuss this yarn and project at length on the
Selfish Sunday Knitters blog
...the final plan for the yarn is on the current page if you scroll down a bit and then there's the first evil plan for it that didn't work out
HERE
. I so want to make this Cleaves thingee someday out of something worthy :) Anyway, this handspun is pretty crazy stuff so I figured that funky scarf/vest thing would work pretty well. Will she have the guts to wear it in publik? Hmmmm....
Had to take a quick brownie break there...I had stashed up some Ghirardelli baking mixes once when they were on sale and just ate 2 of the MOST awesome brownies from their Double Chocolate Brownie box mix. All of their box mixes are pretty fabulous so try 'em out! I needed the boost so I can whine about my KAL...sigh....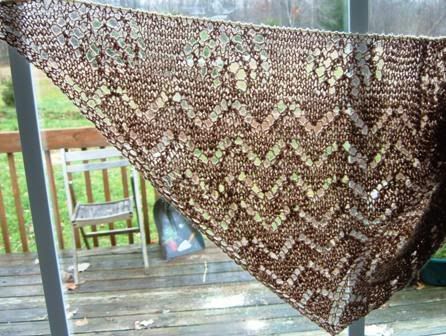 I've completed 92 rows on this baby and it ain't been easy, no sir! It's bar-none the toughest project I've ever taken on but I'm enjoying it. Anyway, the KAL I started for the shawl was going alright and a couple of people dropped out, which I expected because the shawl is NOT easy! It's the Fiber Trends Sheep Shawl pattern, btw :) What's bugging me is that no one really posts much on the list and I think a couple of people felt like there wasn't any help, although they didn't really ask for help that much either. I post pretty regularly to it, post pics in the group database, share whatever tips I come up with, try to be a cheerleader, etc. And there are *really lovely* ladies on the list...they are all just so quiet right now it's making me paranoid. It's just kind of a bummer ~ if anyone really lively wants to join us and chat up a storm while knitting their shawl, PLEASE DO! I'll chat away with you every day! There's a link to the KAL yahoo group in the sidebar here. I *like* KAL's but I've never hosted one before and right now I'm feeling kind of like a big loser host. OK...waaaaaaah...enough of that! I'll post my amazing Sheep Shawl knitting insights some other day :)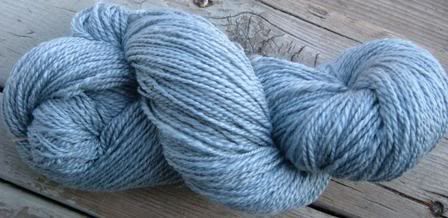 This is a delicious skein of superwash merino/tussah silk that I spun up from some fiber I have for sale on my website and in my shop. This stuff is awesomely drapey and soft and you can get mega yardage out of it too! I didn't spin it real fine and came up with like 420 yards in this skein (which is for sale on my website as well). Had enough of the shameless commerce yet? There's a pretty hot and heavy pro/con superwash debate on the Spindlers list and this stuff is definitely on the pro side of superwash goodness! If people don't start buying this fiber soon I'm going to spin all the rest of it up and make some amazing sweater or something for ME. Fair warning folks!
I don't believe I ever blogged about this awesome poncho I made for my sweetheart of a hairdresser (who has the shop that's attached to my shop)...we trade knitting for the serious hair maintenance needs I have :) I'm in the red to her right now for a couple Christmas gifts she's commissioned and I have the Cherry Red Highlighted do to prove it!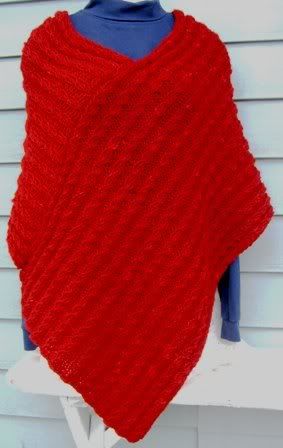 Not a stellar photo but this thing turned out way cute! Love the shape (it's shorter in the back and straight across when you wear it with the point in front) which you can also wear with the straight edge in front. Super easy pattern from Weekend Knitting by Melanie Falick (terrific book!) in a Mock Cable Rib stitch that you block out to flatten it some. Really cute on (it has that "I feel like a girl" thing going on when you wear it) and a very flattering design. I knit it out of some bulky hand-dyed merino wool. Yummy.
Christmas knitting...yep. I'm doin it too. Lots of it! Secret projects that I can't really blog about since somone or other or two may see. But the misc. stuff that I have in the works are super easy footies or slipper sox for a couple folks, earflap hats (love these!) 2 pair of regular sox, (one featuring yarn hand dyed by me and one in Regia Cotton which is pretty nice to knit!) and other BIG IMPRESSIVE SPECTACULAR stuff I can't talk about. Why the hell did I blog about it, you ask? Well, to assure you that I truly AM doing Christmas knitting and so you don't think I'm some sort of freak who has all her Christmas knitting done already. Meet me back here on Christmas Eve and see how much of a freak I am then ;>
I've been slobbering over Nancy Bush's book, Folk Socks for awhile. I wonder if there's a KAL for it? I'm going to Google it and see. Man...I want to knit them ALL! I do, I do! Not right now. But after Christmas I do! I want to do it so much I may even start a KAL for it (someone slap me now, please????) I even have some handspun Jacob I got from a local gal (I didn't spin it) that will be the Welsh Country Stockings :) I'm currently using the Basic Sock pattern in there for one of the Oh So Secret Christmas Socks I'm working on.
There are also a lot of terrific patterns in the Spin Off "Socks" book...I think I'll take a pattern from there for the spindle spun sock yarn I just blogged about in this post. I can see lots of SSK in my future :) Not that I don't have socks...my DH (who makes socks for Zeilinger Wool Company) keeps my feet very well clothed! I have a shocking amount of wool socks and cotton/wool socks and angora socks and alpaca socks and even CASHMERE socks. What a guy! Still, that doesn't stop me from wanting to knit my own socks!
This is a really cool wool/hemp washcloth I worked up as a store sample from the Fiber Trends Bathtime Blossoms pattern (I do have some of this for sale, it's just not up on the website yet!) I really love how the rustic wool/hemp yarn works with the lacey pattern. The yarn is a lot softer than I ever thought it would be and just gets softer with washing. I put it through a wash cycle in the machine with warm water and it came out great! No shrinkage. Please don't mind the plate indentation in the center part...I had used it for a doily under a candle on a dinner plate the other night. The thing really curled up after I sewed up the center seam and gathered the center but once it was washed, it flattened right out...the candle/plate wasn't necessary to make it flat, I just wanted to see how it worked as a doily. It did. :)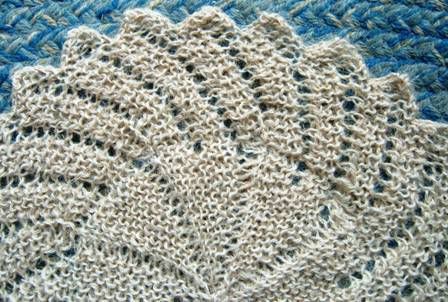 I dyed up some of the wool/hemp too and it comes out really nice. I'll be blogging all about that on my shop blog tomorrow. I thought it would be hard to knit but the short rows you work for it are super easy! It's a relatively fast knit too, even on size 3 needles. Faster than I expected it to be. The pattern also has cute matching soap sacks for each cloth (there are 3 of them all together)
I also finally washed and took pictures of 7 washcloths that I knit up and have to write patterns for. I'm going to make a booklet to sell at the shop, something like "A Warshrag a Day" pattern booklet. Ha! Not sure what to call it but there's seven patterns I need to write up and I hate writing up patterns. UGH. Even easy ones. I'll probably offer the patterns free on the website though...not sure yet. At least a couple of them for free though. They aren't fancy like the Fiber Trends lace cloth I just did but they're different. I really have fun using things other than the "normal" cotton that folks "normally" use for washcloths. While the stuff is really great for dishcloths, I like to use different textures and fancier cottons for face cloths and I sell quite a bit of it at the shop.
I've written up one pattern for three lacey washcloths already, using this single ply soft twist cotton and they're quite nice. I especially like the one lace pattern worked up in this mahogany brown...people are like...ew, brown??? And I'm like..."Ewww...eye makeup on a white (pale blue, pink, seafoam green) washcloth????" Hell, even Martha says that brown is the coolest thing for hand towels and washcloths! C'mon...what's not to love about chocolate brown???? And who can forget BACHELOR BROWN, which every single woman knows (or married women remember) is the prominent decor color in most manly type man houses. So do a washcloth in brown for a guy...just don't do lace. He will love you for it! Heck, he may even use it instead of push it to the back of the linen closet before his friends make his life a living hell over a few beers.
Tomorrow I hope to get pics of the English Angora buns...it's grooming, cleaning out their messy garage area day tomorrow. Little Phillip has tripled in size and the little bugger bit me the last grooming session but we're figuring out how to fix that. (NO...I'm not beating him!) I'm stockpiling angora fiber these days and soon, I should list it for sale but it's HARD...it's from *my* fuzzy bunz! It's MINE! What I really need is some Cormo so I can blend it or ply it with that. Mmmmm...one of my favorite blends of all time!
Well, I'm off to work on those Secret Christmas Things. That you can't see right now. And I'm feeling kinda queasy from those brownies. Two might just be TOO many. Ick.
Labels: hand knit socks, handspun yarn, knitting, spinning, wash cloths, wool hemp yarn