Shetland is my new favorite fiber...
And I need one of those like a hole in the head! But I do love it...as long as it's as soft and yummy as this...
I started spinning some lovely shetland I got on Ebay in four colors for my Tour de Fleece challenge but failed to complete it because I hurt myself spinning...horrible neck pain! I finally got around to finishing it this week and just fell in love with it! I started out trying for lace weight, thought I might get fingering weight and ended up with sport. Ack! It poofed up way more than I expected it to...next time, more twist may be in order. I spun it on my Ashford Traditional. But I love this yarn! I have no clue what to do with the 8 ounces and roughly 525 yards...I want to learn Fair Isle so if anyone has a cool idea for a small Fair Isle project, clue me in! I about busted my butt on ICE...YES ICE...on the deck this morning when I went out to photograph the yarn. Fall leaves abound on the ground around here ;)
I knit these up for DH's sweetest day gift...I'd never attempted a thumb gusset before and it was fun and easy! They look huge on me, but because I used this very cool Custom Fit Mitt pattern and worksheet, they fit his hands very well! I did have to abuse them a tad in the wash because it's handspun alpaca (thanks Mom!) and I know it'll stretch some.
If you read my blogs and know me, you know I'm a mathmatical dunce! So, I had some harry moments with the whole centimeter thing, and my DH helped me out. And I figured out I could turn over my tape measure, too. Ha! But, I *assumed* that when they said to subract one centimeter from the whole centimeter measurement between the thumb and fingers that one UNIT is one UNIT. Inches or centimeters, it's all the same. Right? HELL NO! So, if you're like me and you get to that part, subtract 1/2 inch, not 1 inch! Units are not created equal. Ahem. The rest of it is pretty straight forward. Why on earth I didn't just measure his hands in centimeters in the first place I'll never know.
I'm in the midst of plying up some of the lovely Azurite 50/50 merino and tussah silk I have for sale on my website and it's just lovely! I'm putting the kate way behind me when I'm plying and it does make a major difference in ease of plying and evening it all out. Awesome!
FALL FRUITS....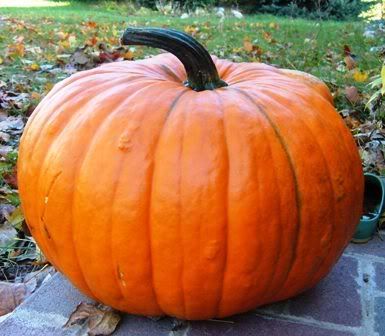 Are one of my major passions. I adore pumpkins and gourds and squashes! DH had to carry this beauty out of the store for me, it's that heavy! I usually go kind of crazy with them as you can see here....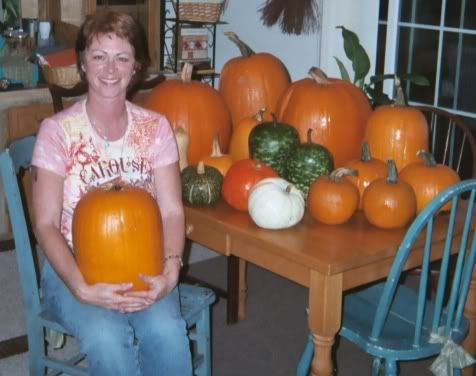 and I don't even have kids! That year (2 years ago), Robert had just left for Iraq and I was really in a crazy frame of mind. I don't have the funds for that many this year, and I may not even have more than the 2 I do at the moment for carving but that's OK. It's not like I have gobs of time either. But I really want a little family of
THESE
from Martha Stewart's site ....HOW COOL ARE THEY???? I dig those vintage goofy faces! I gotta have them! The black silhouettes on the site are nifty too but I'm not feelin that fancy this year.
These volunteered in the veggie garden this year...I don't know what they are and I think they're some kind of throw back to other gourds I had. They're a great color though! I also saved a few small pumpkins from Bubby for my fall display in the dining room. (If you don't know Bubby, click here!) I toss out all the old gourds and pumpkins into the yard for him each year, and we had a lot of great huge vines all over the yard. But, since he plants them, I guess he feels as if he should eat them. The only ones I saved were those I trained to go over the fence.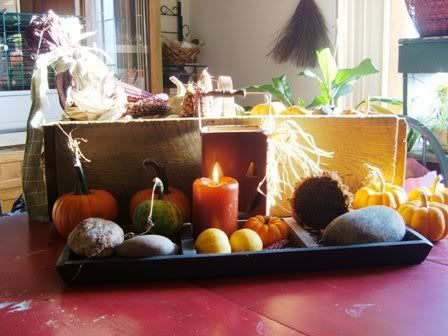 So, I have a few small ones to enjoy! I love this sunflower seed head...it grew up in front of the rabbit cages this year and I saved it.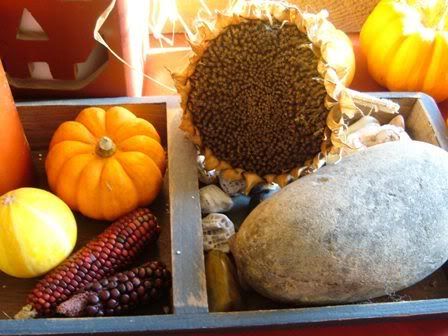 And yes, I love rocks too! This one came from the homestead where my Mom was born in Rogers City, Michigan.
I decided to join the FlyLady's email list this week...I get so down and feel so stressed and horrible when the house is always a wreck. I actually kind of like most housework but when it gets to be overwhelming the way it has since I started the business, I feel awful all the time. Yesterday, I spent all day in our bedroom and master bath and I feel so much better! Robert cooked dinner while I soaked in a bubble bath, which is something I've not done for a long long time and it felt sooooooo nice! I don't know if the email list will help, and I just got the first emails this morning so I'm going to try anyway. I just never know where to start so this has to help! I just can't concentrate or feel good about sitting down and doing my fiber work when I'm surrounded by disaster.
Almost done with the Fibonacci wrap out of marled handspun...it feels sooooo good in the blend of alpaca yarns I'm using. There's some wool and mohair blended in there too. I'm going to call it Nature's Way when I'm done and use it for the November Scarf of the Month at the shop. I'll have the pattern available for sale soon, so check the website for it!
I'm just into the Orchard Lace on the Sheep Shawl KAL...my ladies are out knitting me so I hope to get more done way soon! This is such a sweet bunch of gals...I'm really enjoying the KAL!