Cotswold Fleece Processing, Color color color!!
It is I, crappy blog-keeper-upper :) But that's just because when I'm not working outside my home business, I'm doing my home business thang, which is processing raw fleeces by hand, dyeing or working on my website. And Ravelry has nothing to do with it. Honest.
Anyway...Cotswold fleeces. Hmmmmmm.....
I wish I could say "yum" when it comes to Cotswold fleeces but I'm afraid I can't do that. They aren't anything like the near perfection of some recent border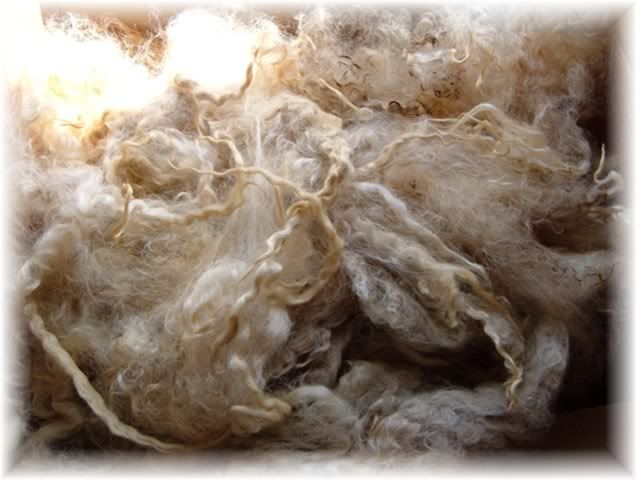 leicester fleeces I've worked with and some of them are just downright icky. Like this one. Very dirty and icky because it has incredibly long staple length ~ like 8-10".
I've been searching for long staple length cotswold to wash and dye so I could sell the locks but what I've discovered is that if the fleece remains on the sheep for the life of 8-10", there are some issues, which is probably why you don't see lovely organized 8-10" cotswold locks for sale out there much (if at all????)
Generally, a fleece on the sheep long enough to attain that sort of impressive length has a few things going on: Lots of dirt and VM gets trapped in there and the fleece gets dense or matted up. Denseness isn't a totally bad thing, particularly when you're going to send it out for processing. Of course, a lot of mills won't process a fleece that long either. And I've read that cotswold is notorious for "cotting" or matting on the critter and it's also very prone to doing the same damned thing when you hand wash them in your sink.
So, as far as long stinky cotswold goes, this fleece was a gem. It was a tad dense but fairly open with long long long locks. Thing is, unless I wanted or could spend days and days organizing each lock in a mesh bag and subsequently selling them for $212.00/oz, the stuff was going to get disorganized in the washing and the necessary teasing as it was drying because if you even look sideways at a cotswold fleece in the water, it gangs up on you and gets friendly with it's fibery neighbors.
These gorgeous things in the above photo are what I fantasize about ~ and I could accomplish this to a certain extent by carefully sorting locks that are all separate like this out of the dirty fleece then laying them all nicey-nice into a mesh bag or basket and washing them by hand for a week or so. But I don't have the luxury of that much time and I don't need 10" perfect cotswold locks for Santa beards or anything.

The best I could get for the time and energy I have to expend is this:
This is lovely and clean and gorgeous and not all matted up. The lock structure is visible enough so that someone who wanted to spin from the lock could do so relatively easily. I have to keep my costs reasonable so that I can actually sell this fleece to someone, dyed or undyed and it takes more time than you imagine washing something as nasty as a long-stapled cotswold fleece by hand so that it *is* nice and clean and relatively free of VM and still open and nice. But how awesome is that staple length, eh???? I have more of this to wash and I list the
clean white stuff on the website for sale
until I can get it into the dyepot.
The way I washed this was to separate hunks out of the fleece ~ meaning you could see how the fleece was arranged and there were long strips of it that hung together during shearing ~ the butt end was obvious. I took off 12" lengths of it (or a little shorter than the width of my sink) and then did my best to organize them carefully into a sink that was full of super-hot tap water and dawn dishsoap. I gave them 2 soapy soaks and 3 rinses. In that process, if you're not VERY careful with cotswold, you can have terrible issues with it matting/felting so be SUPER careful with them. In that process, they manage to get disarranged and then they get even more disarranged when I take them out of the washing machine spin cycle and tease them apart gently to remove any large VM pieces and to make sure they aren't matted up.
So, I had a bit of a rude awakening since I was under the impression that I could get my paws on some lovely 10" long cotswold fleece and all the locks would be nice and separate and life would be easy and lovely. I'm not saying that what I got is bad, or that what I had to do was bad by ANY means ~ I just learned a little bit and I do love the results, even though they're different than what I expected.
I have better luck with
super curly little cotswold lamb
fleeces as far as lock structure goes ~ see?


(DISCLAIMER: I am NOT a cotswold breeder nor a cotswold fleece expert. I'm a hand spinner/business owner/dye artist who works with cotswold fleeces. If you have beautiful 10" long cotswold fleeces that aren't matted, CALL ME!)
And then there's color, which is a huge part of my life and business these days. I've been doing a monthly contest with folks that are on my
website's fiber news list
~ they submit colorway suggestions and if I chose one of them for one of my new colorways, they get 4 oz of their colorway. Here are the winners so far: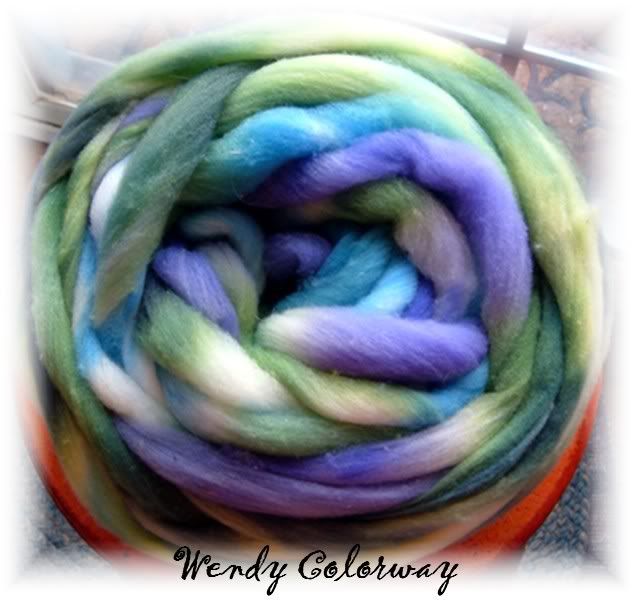 Wendy on 100% bright white Rambouillet roving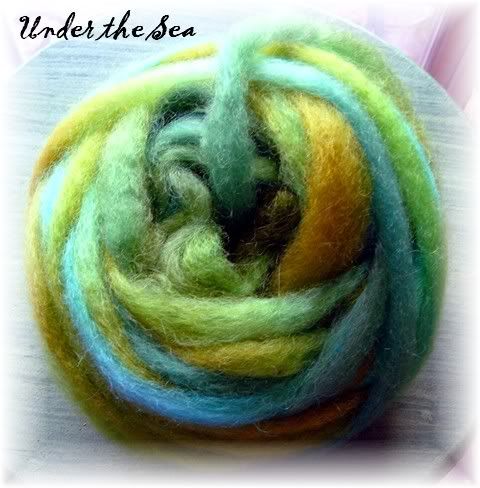 Under the Sea on a romney/mohair blend roving ~ this was submitted by James and didn't turn out anything like either one of us thought it would but, as James says "close enough for government work!"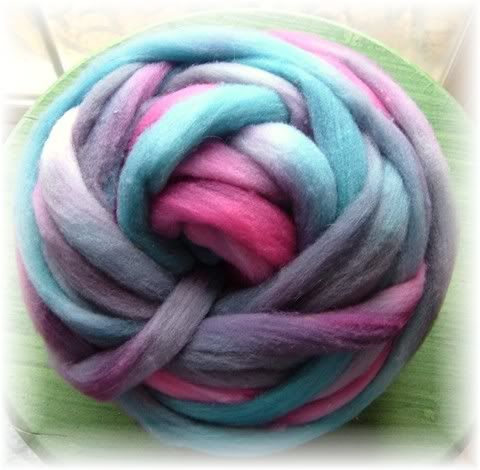 "Jam" , another winner from James, also on 100% bright white rambouillet roving.


This one is one of my all-time favorites ~ Big Sur. It's evocative of my Big Sur memories and Big Sur is one of the most beautiful places on this planet (according to me!) This was one of those colorways that just happened exactly right the first time. I LOVE it!!!
The following colorways and Big Sur came out of my own head ~ I get my inspiration from all sorts of things. Nature, of course, magazine ads, photos, and sometimes I just reach into the dye box and pull out three random colors and try them out no matter what my brain is telling me about whether or not they go together. I actually think that's how Melon Balls happened, except I tweaked the yellow somewhat.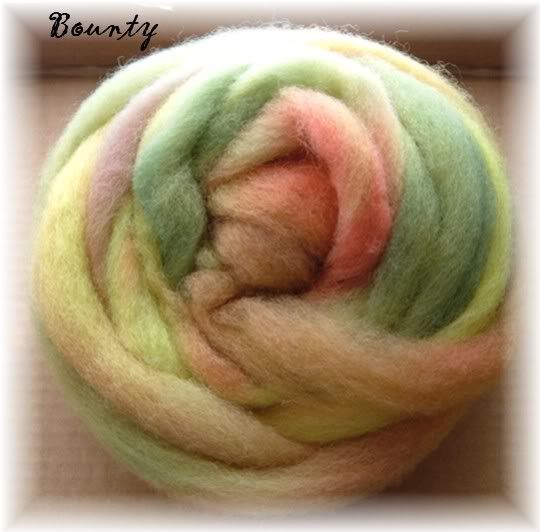 This is a little number I'm calling "Bounty" ~ I was trying to get to the same place as a magazine ad I was working with and didn't really get there ~ it needs more of a brown in the green and more pink than the peachy color BUT it's very pretty in its own right and actually sold right away. Sometimes those "mistakes" are wonderful things :)


The Rock Star colorway that is "Melon Balls" ;> ~ on bright white 100% rambouillet roving. This colorway has been really really popular and it *is* a lot of fun!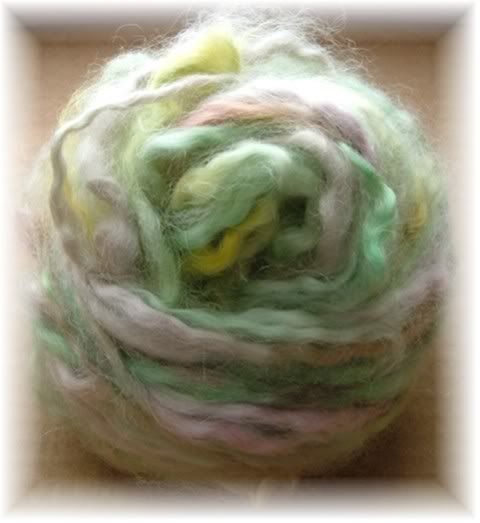 Swwooooooooooonnnnnn ~ this is the 100% kid mohair pencil-roving like stuff ~ I have so little of it left to dye up, it's making me REALLY sad. It's amazing! This is Spring Dreams . This isn't a colorway I'll be reproducing, although I did take notes ~ it was, however, some leftover dyes from a dye session and while I can probably come close to it, it won't be the same. The fiber isn't what I would call easy to spin ~ it's SUPER slippery and a bit fragile but with the right feather weight spindle, it's pure joy. One of my customers spins it from the fold on her wheel. I've been saving odd lots of it from dye sessions for myself and have at least a pound I think of various and sundry colors to someday do something ultra cool.
And lastly, Melon Balls in mohair locks The picture isn't doing it justice but all the same, this batch didn't come out with as much pink as the other batches. Still, it's cool canteloupe-y oranges and honey-dew greens and some yellow....yum!
I haven't been getting in a whole lot of new and interesting knitting. If you do want to keep up with my knitting projects, Ravelry is probably a good place to look right now. I'm YarnoraTale there and would love to have you stop in and say hello.