Plucking, Dyeing, Knitting...
Well, I *try* to do it all! Haven't posted in a bit and am taking some me time this morning before I start dyeing like a mad woman. Speaking of dyeing...here's the latest color way I'm oddly fascinated with...
The fiber is a lucious merino top and the yarn is our "zoo" yarn in the shop...it's a combination of merino, angora, alpaca, llama, polwarth...yummy! I bought some new dye colors and this is a combo of toffee and key lime. I have no idea why I'm so attracted to it but I am! I worry that it's a bit like camo...not this one so much as THIS one...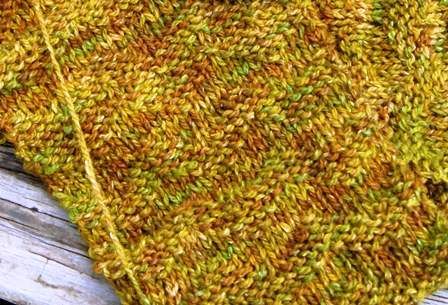 This is my September SOTM project. I overdyed some absolutely ugly "light quartz" wool/silk yarn in those same colors and came up with this in the toffee/key lime and I do love it BUT it so reads camo to me...so I decided to girl it up with these:
Whatcha think? Is it hopelessly Rambo Camo? Of course, one could leave off the beads and since the stitch pattern is not girly, it would make a nice man's scarf as well. I over-dyed a couple different colorways for the scarf though...

I struggled trying to find a stitch pattern that would work with hand painted yarn and I think the wavy welt does the trick :) Super easy and fun to work up! Just about done too! The pattern will be available on the website soon. I'm so behind in writing up patterns to post there for sale but I'm working on it. This is a great pattern to use with any lively handspun or hand-dyed yarn! I love designing but I hate writing patterns.
Speaking of girly girls...
That's Miss Phoebe the Phiber Phactory! Post plucking/grooming. She's molting now and I was having such a hard time getting much plucked fiber. Turns out, I was being a bit *too* gentle in my plucking. I found out that grasping the tips a bit more firmly yeilded a satisfying amount of plucked fiber instead of like 6 little hairs! It's still a very tedious process and I'm not done yet by any means. Here's some fiber from her that's "prime plucked"
And here's some that I just comb out and will either spin up as it is, dye and hand card, or have blended with some merino/tussah laps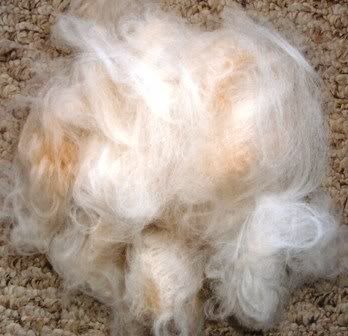 And here she is pre-groomed ~ it's not easy photographing a rabbit, lemme tell ya!
Looking a bit ratty! She's a lovely girl though, who almost never gets any mats at all except at her chin (which she hates having groomed!) and on her feet, which is pretty typical I think. Of course, behind her ears she gets teeny mats that are easy to get out. That fiber there is super silky. In case you're wondering, she's a tort English Angora and was bred at Desired Haven Farms. I'm hoping to get another English Angora ~ dark this time~ there at the Northern Michigan Lamb and Wool festival coming up at the end of the month from the same breeder, Misty Chandler. Phoebe is truly a lovely angora who gives me a LOT more fiber than I ever expected, and I've spun some up already. I've only had her since May of last year and already have a paper grocery bag of combed out fiber (and I've spun up at least 4 ounces of that already!) and a tidy pile of prime plucked stuff as well and I only started plucking a couple weeks ago. Here's some of the stuff I spun up: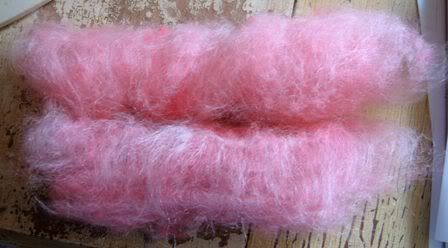 A couple of my very first hand carded rolags:) This is some dyed, not-that-great Phoebe Phiber blended with merino/tussah silk laps and spun into this:

Actually, this is not as well blended as those rolags above so it's not the same stuff but close!
Then, I used some black and pink dyed angora Mom gave me which was not prime plucked by any means and blended it with Phoebe's Phiber on hand cards and got this "Good and Plenty" 100% Angora novelty yarn, which is Very Very Cool :)

I also spun up a really wild hot pink and key lime green Phoebe Phiber and merino/tussah silk laps yarn last week but I guess I didn't get a pic of it yet. It's a lot of yardage...224 and 5 oz! Its for sale in the shop too. It was hand combed angora, hand dyed both fibers, and then hand carded and hand spun. whew! Great skein though, I'll get pics soon!
On the knitting front...still working on the Yukon Leaves SOCK (ha! I feel SSS coming on for this pair) and am soooo excited that I'm almost done blocking the pieces for my merino cabled sweater! I've *only* been working on the thing for 2 years but it'll be done by next Sunday for my Selfish Sunday Knitting project :) Check out the team blog for that and join us if you like!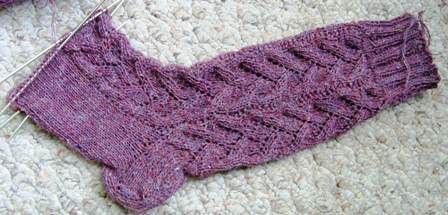 I'm only 2.5" from the toe decreases ~ YAY ME! It's a lovely pattern to work, but it's slow going on size 1 dpn's with double stranded alpaca/wool/nylon that my husband had left over from his machine sock knitting operation.
The pattern is from the Vogue Knitting Fall 2003 issue...TERRIFIC issue...I've made a super bulky hooded vest from it already and there's another sweater in there I want to knit.
Boring Blocked Bits
I didn't have enough room on my dining table to block the back so today I'll wet block that and wait very anxiously to sew it up and then pick up and finish the neck on Sunday. The weather here in Michigan now is turning out to be PRIME SWEATER WEATHER! The yarn is a heathered merino, mill spun at Zeilinger Woolen Mill. Lovely lovely stuff! I'm not totally into purple, although it seems that way from my two projects. But really, I've never bought even one purple thing to wear EVER.
I still need to finish my Soft Twist Cotton Tee (my excuse being I lost one of the dpn's and couldn't finish...ack!) and hope to get that done this week. I MUST finish the one sock since I need my size 1 dpns to cast on a pair of Christmas socks for my sister. No way would I ever immediately cast on that second Yukon sock...I need a breather! But after finishing the sock, the tee and the merino sweater, I can cast on with some of my very own handspun! I'm thinking of making a little shrug or capelet or small poncho type thingee with this crazy, very first handspun.
It's about 450 yards, in bulky weight (not all pictured here) so I think there will be enough for something kind of cool. I spindle spun it and then asked my Mom to ply it for me cuz I was SCARED OF PLYING...hahahah...ah, the newbie spinner's lack of confidence! But I discovered I love plying, actually, and now somehow get roped into plying all Mom's singles...talk about turn around being fair play???
Off to dye up tons of stuff, and I'll be packing up merino/silk laps to ship and Jaggerspun Zephyr for the SHEEP SHAWL KAL :) I'd like to get some spinning in today but if I had a magic eight ball, it would say "not likely."