Fibonacci, Take Me Away!
At least, take some decision making out of my hands :) I know, I'm probably really late getting on this bandwagon, as usual, but I fell in love with a certain shape wrap and got all fired up about some of my handspun yarns in natural marls and off I went! First, I decided to read up a little on this whole number thing, which, if you know me, is not my forte! Math and I do not play well together at all! And it seemed easy enough. But first things first...
Notice the scary cheapo plastic spider ring shawl pin?
I designed this scarf for my shop's October Scarf of the Month kit, not being real serious about it and just wanting to play with something fun and wacky for Halloween. But, I fell hard in love with the bias shape and wanted to do something more practical for the shop and FOR ME!
So, with a yummy alpaca/angora handspun in my sweaty little paws, I set about designing another bias wrap, in which my poor husband tried his best to help me figure out how many stitches to cast on for the proper length. It's totally embarrassing how long it took me to figure it out...I won't go into gorey details except to say that I didn't start the thing for 2 days because that whole concept had me in a tailspin. Sigh...but I finally did decide. Before that, I knew I would use the Fibonacci idea because I had several other small balls of natural marled handspun and not enough of the alpaca/angora to knit a generous wrap that would look gorgeous around my shoulders over a sweater. I hate coats and avoid them when I can.
Here's where I am so far. I cast on in Fib numbers, chose the number of yarns in Fib, and planned the rows in Fib as well, eager to see if using this concept made the piece make more sense. I'm pleased with it so far. However, I do not know if the length is going to make me happy yet but we'll see. IT'S A SHAWL...not brain surgery!! I really like the way the marled yarns look together.
It amazes me that people aren't so much into natural yarns these days...I love color too but there's something so *right* about naturals! I'm going to write the pattern for the shawl for the shop and hopefully inspire others to knit up some naturals and discover the joys of knitting with handspun. Email me if you want to know when the pattern will be out for sale :)
Now, I'm thinking about designing a bag or placemats or something felted in the Fibonacci Spiral...look at me and math go! Wheeeeeeee......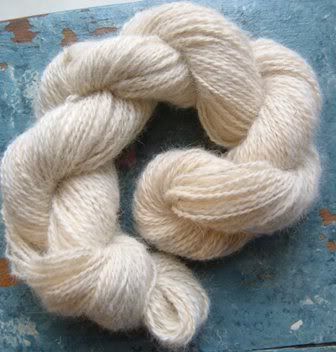 Here's the result of the fiber combing I've been doing. Whew...talk about some work for 160 yards of 23 wpi baby alpaca yarn ~ 2 spindles full! This is the second combing teeny bird's nests I spun up on my featherweight. Not as teeny of a yarn as I dreamed of but getting there! It took like 3 washings with Dawn to get all the dirt out of the spun yarn and I'm not sure if it affected the softness but the dirt definitely made the fiber seem slicker and softer, believe it or not! Too bad dirt and baby alpaca scent aren't desireable. I had even washed the fleece once before starting.
I realize the pic makes it look like it's still dirty, but it's not...it's a creamy white. No more brown water after the washings, so I'm fairly certain that this is the proper clean color. It has a lot of halo and those little halo-ey fibers tangled a bit with all that washing but I just pulled apart the strands and it's fine. Not felted at all...and the halo is quite lovely, really.
I had so much shop knitting to do, I was away from my spinning for way too long! So I spun quite a lot over the weekend. I always forget how much I love my Ashford Traditional until I've been away from it for awhile. I finally got all the Shetland spun from my crash and burn Tour de Fleece project and started plying it this morning. I have a pound spun up, in four different colors and should have a good time trying to find out what to make with the resulting fingering weight yarn. Any hot suggestions anyone? I'm not sure I can face a fingering weight sweater even if I could get a couple more pounds of this particular fiber that I got on Ebay...I should have plenty of yardage for something cool though and what a great time to learn me some Fair Isle but on like size 2 or 3 needles? Yikes!
Let's NOT get serious!
What do you think I'm doing with that interestingly spun hand dyed merino/silk and those hand dyed mohair locks? Hmmm? TUFTED YARN BABY! TUFTED AND BEADED YARN!
I spun up some of the "c" grade merino/silk dyed laps I sell on my website (sold out now but more coming soon...cheap, colorful and fun!). I normally recommend that they be used for felting or that they should be carded or combed before spinning BUT I wanted to play with them so I spun up a slubby yarn with them. Then I decided to add some of the dyed mohair locks I have in stock and tuft it. Kind of time consuming but not too bad. You need more locks than you realize though. My tufts are about 8 inches apart but that's OK.

I opted to use longer locks and wrapped them several times around the singles before plying them in, and I sort of pushed them up together before trapping them in the plying. This was really fun and was done during a small Top Chef marathon, which my husband is strangely fascinated with. I worked in restaurants (not cooking!) for so many years, that I'm not as fascinated as he is by what they go through. I know that profession is hell and while I think chefs are generally slightly insane, I do admire them!
This is it on the bobbin. Can't take it off yet because I'm going to ply it one more time with a beaded thread...wish me luck! If my pic quality seems off lately, it's because we're back to a crappy monitor that's losing brightness...hopefully we'll have a new one soon.
If you're going to attempt this, I recommend using a woolie winder or a jumbo flyer deal...the jumbo I have on my Ashford Traveller worked pretty well, but it would get hung up occasionally. I plied it (hopefully!) tightly so that I can ply it back the other way real quick with the beaded thread. Real quick.......aaaaaaaahahahahaha......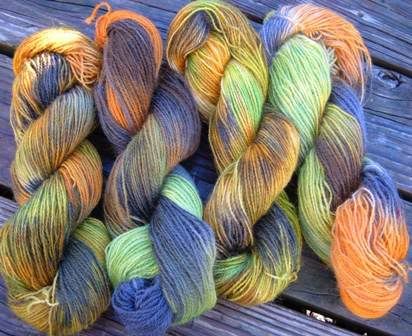 I dyed up some sock yarn to celebrate Halloween! It's pretty dark and scary and I hope I have time to knit a pair for myself. This is a sport weight wool/mohair/nylon blend and while not super super soft, it's not bad and will last you for about a zillion Halloween festivities. I have to get it up on the website today. I also designed a felted treat bag for the shop for a Halloween class that turned out pretty cute.
At first I though I would do intarsia for the pumpkin, which I've never done before so realized too late that to do it in the round is not practical for most of us. Thus, the duplicate stitch pumpkin which took me way too long to figure out since I'd not done duplicate stitch before either. Those are little bell earrings hung at the top for embellishment. Cute, eh? Thanks Mom! She gussied up the bag for me after it was knit and felted.
This pattern is available for purchase so EMAIL ME if you'd like to buy it for $2.50 :)
So...I'm off to write patterns and get some of this stuff up for sale on the website. I had hoped to get in some dyeing today but I think that'll have to wait till tomorrow. I cringe everytime I go into our bedroom so that wins today, unfortunately.